The Bisconti Bulletin




1st Quarter 2019



Greetings – from the Heartland!
October, November, and December were profitable months!
God's blessings and challenges are bountiful.
October Highlight – I was blessed with the opportunity to preach this month at the
church where I met the Lord as a young lad of 7 years. The church is now called
Parkview Baptist Church but back then it was North Avenue Baptist Church, Northlake
IL. Pastor Todd Morrissey has always been kind and gracious to me when I visit. I have
known him and ALL his family for over 20 years now. God has blessed them well.
November Highlight – Teaching at North Love Baptist Bible College for the semester took most of my time in November. The class this semester was Business Administration in the Local Church. With 40 years of business acumen 'under my belt' within the corporate community God has placed me in a unique position to bring real life experience to the classroom. Every student passed the course!
December Highlight – One of the best parts of the month was being able to go down to Pensacola Florida to visit my daughter Jennifer her husband Zach and the two grandchildren! While there I was also able to see an old missionary friend Lou Weller who is 'retired' but working in a church as the Reformers Unanimous Director. His home church, Grace Baptist Church of Pensacola, was kind enough to invite me to preach while I was there. The folks are friendly, welcoming AND very knowledgeable concerning the scriptures. We had a pleasant time and the Lord blessed.

Please continue to pray for us as much as possible. 2019 has a lot of activities planned and God willing we should be able to do much for the Lord as he provides.
God Bless,
Bob Bisconti
"The Spirit of the Lord…hath anointed me to preach…"
The Bisconti Bulletin




4th Quarter 2018



Hello – from the Midwest!
July, August, and September were very productive months!
God's blessings and challenges are bountiful.
July Highlight – Vacation Bible School saw over 200 attendees at North Love Baptist Church, Rockford IL. It was an evangelistic outreach that saw over 50 young people trust Christ over a four-day period. I was given the opportunity to drive a bus all week, help enlist children and serve as an altar worker. I hope we can do something similar next year!
August Highlight – Boys Challenge Camp saw 15 young boys, soon to be young men, spend almost 6 hours a day for four days working and training in areas of character, discipline, love for God, Bible, memory verses, singing, patriotism, and responsibility… to mention a few and oh yes…while having fun! We had two trust Christ and almost all want to return for another week next year. I know a lot of people were praying for this week and it was VERY EVIDENT that God answered those prayers!
This week was so well received by the people and the pastor that I'm praying that other churches may want to have a Boys Challenge Camp. I have a presentation video if a pastor is interested.
View some VBS and Boys Camp photos here: http://biscontiministries.org/photos/
September Highlight – Church Growth Conferences, one in Lexington, KY and one in Elgin, IL gave me an opportunity to make several new (and old) contacts as we look to expand our efforts to assist pastors and churches in spreading the gospel and strengthening Christians. It seems people are becoming more aware that the time to serve God is growing shorter as we look for the return of Christ!
Please continue to pray for us as much as possible.
God Bless,
Bob Bisconti
"The Spirit of the Lord…hath anointed me to preach…"
THE BISCONTI BULLETIN JULY 2018
Hello – from Illinois!
April, May and June were wonderful months!
God's blessings and challenges are bountiful.
April Highlight – Sportsman's Dinner Outreach at North Love Baptist Church, Rockford IL. An evangelistic outreach. God blessed with many decisions among the dozens of visitors including those for salvation. I was blessed by having 7 guests attending that I was able to personally invite. See a few below.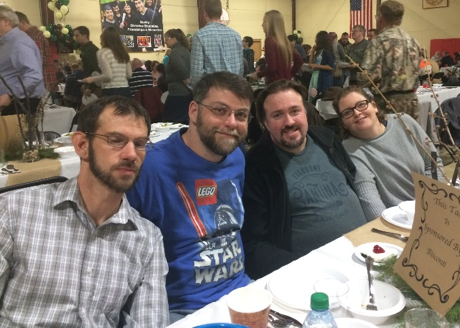 May Highlight – Church Planting Conference at Faith Baptist Church, Osterberg, PA. This is a giving conference where we get together and pool our resources, financial and otherwise, to support the many new church startups that are represented at the conference. We also get to hear a lot of preaching from the floor and each night the two special guest preachers speak as well. The new churches generally give an update as to how God is blessing and working in their ministry. This year almost $6,000.00 was raised in a three day period. Amen!
June Highlight – RU National Conference, Rockford IL. I was able to attend the conference this year and have the Mayor of Rockford as my invited guest. He was very gracious to attend and many times expressed genuine interest in this faith based ministry. We are seeing a lot of people saved through this work. Usually any week that I am home and not traveling I teach a class of the RU people who are living in one of the residence homes.
Thank you for your continued prayers and support!